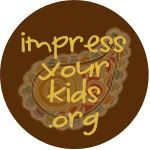 Parents who are looking to raise godly children need to check out the new site,
Impress Your Kids
. Author, Amanda (who also writes for
Oh Amanda
) and Leigh, both mothers of two, co-author this site. In their own words, here is what the site is all about:
When my daughter was 2 years old she came home from church one day with a magnet that said, "Love God with all your heart." (taken from Deuteronomy 6:4-9) We looked at it, read it once or twice and stuck it on the fridge. Then promptly forgot about it.
A few days later, we were making a card for Daddy. She was supposed to be writing "I love you, Daddy" but instead began to chant, "Love God with all your heart!" I was dumbfounded! My little toddler was quoting scripture!!
So, right then, I knew it was time I actively put God's Word in her heart! I started doing an alphabet letter of the week, a craft and a verse. We call them our "ABC verses". I began posting our crafts and activities on this blog to keep myself on track. One of my great bloggy friends, Leigh has a son the exact same age as my daughter. When she decided to do the same type of crafts and memorization with her son, I asked her to post, too. (She's way more creative than me, so I need some ideas!)
As our kids have gotten older and we've moved past our "ABC verses" AND as parenting has gotten more intense, this blog has morphed into a toolbox of sorts. This is the blog you didn't know you need. We post our parenting struggles, our triumphs, our creative ideas, our fun activities, special events and silly stuff—so dig around in our toolbox, use what you need and watch your kids grow into the life God has planned for them.
Text taken from ImpressYourKids.org at http://impressyourkids.org/?page_id=11.